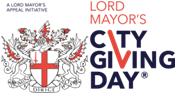 Good business can only succeed in healthy, vibrant societies, which is why it is so important to promote and reflect on the volume and breadth of the community work that the City and UK business does.
City Giving Day is an annual event that unites the City through its charity and community partnerships. It gives business the opportunity to promote and celebrate the good work that they do.  This year it is Tuesday, 26 September.
If you are interested in finding out more about City Giving Day and increasing corporate engagement, please join us at an information breakfast at Mansion House, hosted by the Lord Mayor on Tuesday, 13 June (rsvp to cgd@thelordmayorsappeal.org) or visit the City Giving Day website.