City Giving Day 2016 – Tuesday 27th September #GoRed
City Giving Day is less than a week away.  With more than 200 organisations signed up and hearing there plans it is certain to be bigger and better than ever.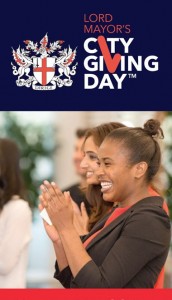 As you know City Giving Day, driven by the Lord Mayor' Appeal, is the once in a year opportunity when collectively the City can unite, celebrate and showcase the fantastic charitable work it does in communities across London and beyond.
On the day itself The Lord Mayor, Lady Mayoress, Sheriffs, and Aldermen will play their part by visiting some 42 businesses in the Square Mile, West End, and Canary Wharf.
During the day you may well see some red robes walking around the City as they tour from business to business and meet employees seeing first-hand the philanthropic activities on show which are being celebrated.
We have been inundated with stories of what will happen on the day, from Investec's "Dragon's Den" style event, during which they'll give away seed funding to social impact initiatives; The Don's fundraising Long Long Lunch; to MWR Infosecurity's cyber security challenge.
To help make City Giving Day more visible this year, businesses' and employees will be Going Red to show their support and help amplify the message that the City does good. We have heard this could be wearing ties, shoes and dresses, to baking cupcakes and wearing wigs
There are 6 'simple' ways for you to be part of it and support the Lord Mayor and the LMA team
#GoRed

and encourage your organisation to as well
Join the Lord Mayor, Sheriffs' and Aldermen kick off the morning with a photo call in Guildhall Yard 8.20-9.00
Be part of the thunderclap to help make City Giving Day go big –please encourage others to join it too
Send us photos of any activity that you see
Tweet about CGD and or follow @LMAppeal and retweet
Pick up City AM on the morning and more for colleagues and contacts
You are very much part of the City and your support in helping champion the good the City does will be fantastic.  For further information – https://www.thelordmayorsappeal.org/city-giving-day/about/ 
Kindest regards
The Lord Mayor's Appeal Team
0207 332 3177