We are delighted to welcome a new business to Broad Street Ward – here is their story…
The inner sanctum of Austin Friars is, of course, one of the delights of Broad Street Ward. As you enter this wonderful space, you relish the opportunity to 'detach' from the City bustle and enjoy its special features. Now, at No.14 on the 1st floor above the Soho Cafe, there's a new one – CAP City Dental.
This well-established dental practice has been a proud resident of the City for over two decades, earning a fine reputation for the quality of its General and Aesthetic Dentistry. Last October, CAP City Dental relocated from Cannon Street to Austin Friars after successfully installing a splendid new interior while keeping to the design requirements of a listed building.
"We absolutely love being here" explains Dr George Druttman, owner and Principal Dentist. "It's so quiet, calming and clean … no traffic noise save for the church bells and no pollution. Quite a few of our patients have anxieties about their dental visits, but after they come we see how soon they relax. Of course it also helps that we're one of the few dental practices to offer 'relaxing gas' (Nitrous Oxide and Oxygen sedation), which is completely safe."
For many who work in the City, having a good dental practice nearby is very convenient and attractive. In most cases they only need to take an hour's break. CAP does its utmost to accommodate patients within convenient time slots – and to be available in times of emergency (for example if there's a front tooth problem just before a presentation).
General Dentistry is all about keeping teeth healthy and functioning well. Aesthetic Dentistry is about improving the attractiveness of the smile – which is certainly a consideration in the City. Aesthetic physical appearance is important – especially our teeth, which we can't really hide.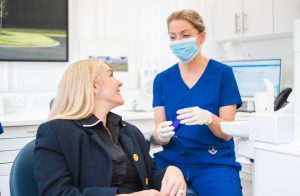 Teeth may be chipped, discoloured, misshapen, or even missing. In every case, the wonders of modern dentistry can be quickly applied to correct damage or even improve on Nature. Cap City Dental's focus on healthy and aesthetic restorative dentistry has helped countless patients to rediscover their lost smiles or create smiles they love.
Six monthly check-up and dental hygiene sessions are emphasised as  the best way to keep teeth and gums in good health, prevent  expensive dental restoration and ultimately keep dental costs down.
A new initiative now available is the Dental for Corporates Deal, offered to employers at no cost or fuss to themselves. They simply include our Dental Care within their Corporate Wellness Package for staff. CAP then gives all company employees and their families 10% off on all treatments. It's simple and immediate, with no need to submit forms and is applicable irrespective of dental insurance.
"We're happy to bring an added sparkle both to Austin Friars and to the many people who work around Broad Street Ward. We look forward to an excellent relationship in both directions." says George with a smile.
For corporate dental benefits, please contact manager@capcitydental.co.uk .
For more information about CAP City Dental team or should you wish to book an appointment, please visit www.capcitydental.co.uk, call 020 7621 0600 or email dental@capcitydental.co.uk .
Our address: CAP City Dental, 14 Austin Friars, London EC2N 2HE